"In a town south of Turin, Marcante-Testa Architetti updated the interior of a house with quite a past while keeping its original 20th-century particularities intact"
Words by Oscar Duboÿ, photos by Carola Ripamonti, translation by Rodney Stringer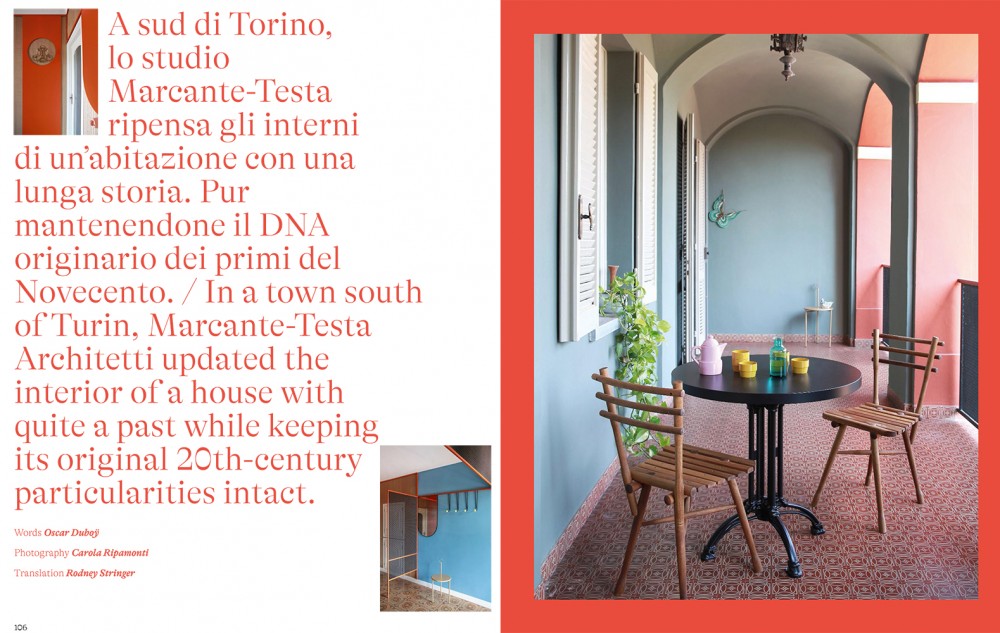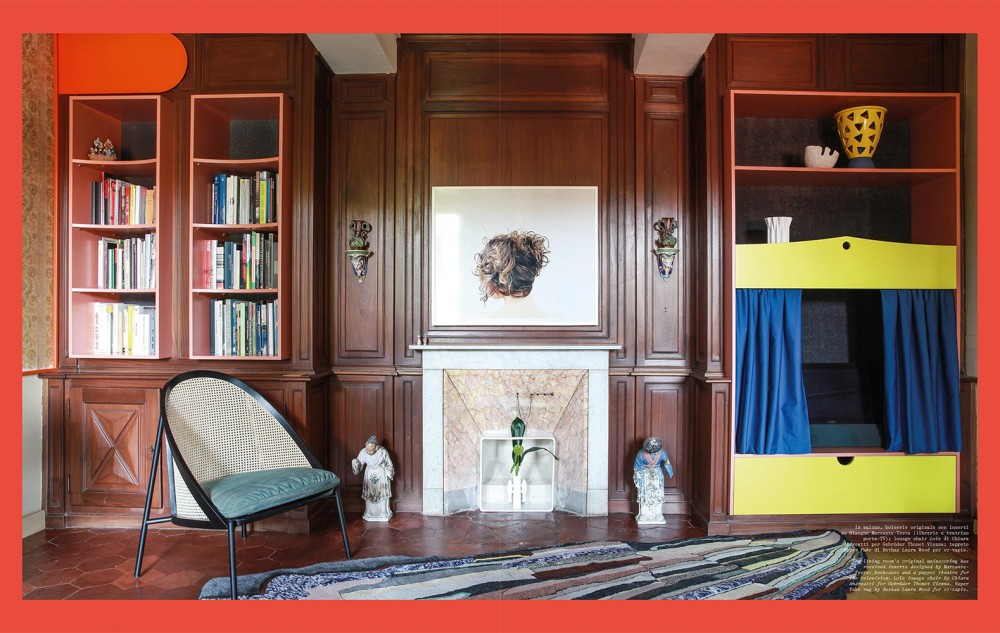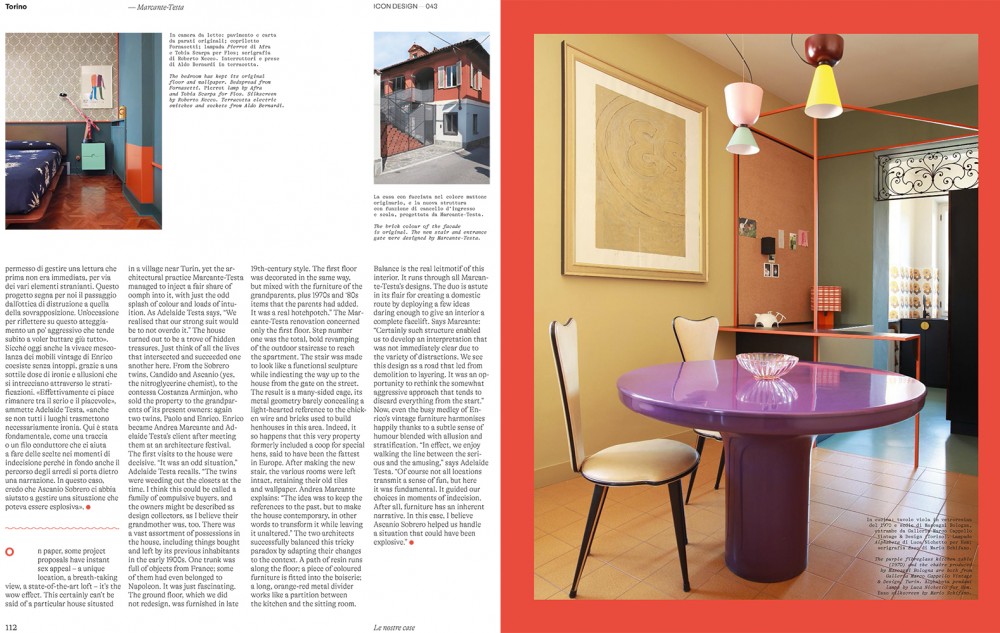 On paper, some project proposals have instant sex appeal – a unique location, a breath-taking view, a state-of-the-art loft – it's the wow effect. This certainly can't be said of a particular house situated in a village near Turin, yet the architectural practice Marcante-Testa managed to inject a fair share of oomph into it, with just the odd splash of colour and loads of intuition.
As Adelaide Testa says, "We realised that our strong suit would be to not overdo it." The house turned out to be a trove of hidden treasures. Just think of all the lives that intersected and succeeded one another here. From the Sobrero twins, Candido and Ascanio (yes, the nitroglycerine chemist), to the contessa Costanza Arminjon, who sold the property to the grandparents of its present owners: again two twins, Paolo and Enrico. Enrico became Andrea Marcante and Adelaide Testa's client after meeting them at an architecture festival.
The first visits to the house were decisive. "It was an odd situation," Adelaide Testa recalls. "The twins were weeding out the closets at the time. I think this could be called a family of compulsive buyers, and the owners might be described as design collectors, as I believe their grandmother was, too. There was a vast assortment of possessions in the house, including things bought and left by its previous inhabitants in the early 1900s. One trunk was full of objects from France; some of them had even belonged to Napoleon. It was just fascinating. The ground floor, which we did not redesign, was furnished in late 19th-century style. The first floor was decorated in the same way, but mixed with the furniture of the grandparents, plus 1970s and '80s items that the parents had added. It was a real hotchpotch." The Marcante-Testa renovation concerned only the first floor. Step number one was the total, bold revamping of the outdoor staircase to reach the apartment. The stair was made to look like a functional sculpture while indicating the way up to the house from the gate on the street.
The result is a many-sided cage, its metal geometry barely concealing a light-hearted reference to the chicken wire and bricks used to build henhouses in this area. Indeed, it so happens that this very property formerly included a coop for special hens, said to have been the fattest in Europe. After making the new stair, the various rooms were left intact, retaining their old tiles and wallpaper. Andrea Marcante explains: "The idea was to keep the references to the past, but to make the house contemporary, in other words to transform it while leaving it unaltered." The two architects successfully balanced this tricky paradox by adapting their changes to the context. A path of resin runs along the floor; a piece of coloured furniture is fitted into the boiserie; a long, orange-red metal divider works like a partition between the kitchen and the sitting room. Balance is the real leitmotif of this interior. It runs through all Marcante-Testa's designs. The duo is astute in its flair for creating a domestic route by deploying a few ideas daring enough to give an interior a complete facelift. Says Marcante: "Certainly such structure enabled us to develop an interpretation that was not immediately clear due to the variety of distractions. We see this design as a road that led from demolition to layering. It was an opportunity to rethink the somewhat aggressive approach that tends to discard everything from the start."
Now, even the busy medley of Enrico's vintage furniture harmonises happily thanks to a subtle sense of humour blended with allusion and stratification. "In effect, we enjoy walking the line between the serious and the amusing," says Adelaide Testa. "Of course not all locations transmit a sense of fun, but here it was fundamental. It guided our choices in moments of indecision. After all, furniture has an inherent narrative. In this case, I believe Ascanio Sobrero helped us handle a situation that could have been explosive."