AN EXPLOSIVE COMPOUND
2017
"An Explosive Compound" COVER STORY on  The World Of Interiors, Nov. 2019:
"Hi-energising a drab 1970s flat near Turin"
[…]"the project proves that memoria storica doesn't need to stand still: it's a moving target"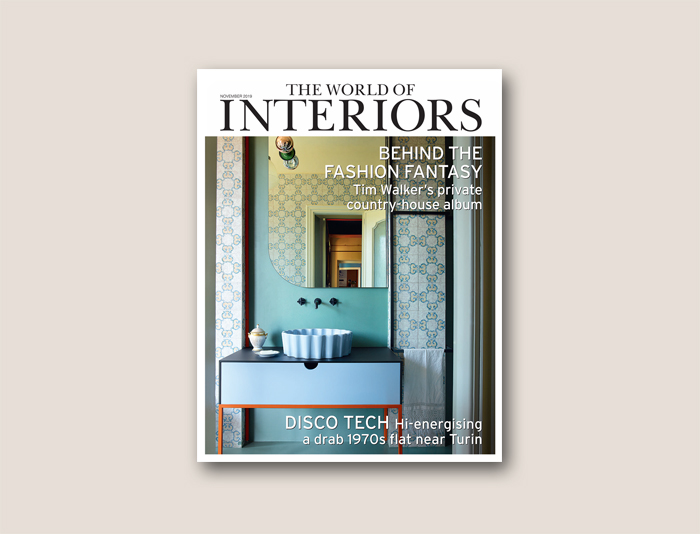 Let's start from the place: this house is in Cavallermaggiore, in the northwest of Italy, and is a portion of a larger building of the second half of the nineteenth century. It was the house of Ascanio Sobrero, inventor of the nitroglycerine that Alfred Nobel used to obtain its dynamite.
As regards the external architecture, the intervention demolished the previous entrance and replaced it with a new architectural element that serves as a gate, entrance and staircase.
The brick base is inspired by the rural buildings, the barns, while the metal structure and the wire mesh are inspired by the old chicken coops. This new element with its staircase is the starting point of the metal structure that we will find in the interior design project too.
The house was – and is – a stratification of styles and materials that represent the lives of the previous inhabitants, including the general Candido Sobrero, twin brother of Ascanio who was followed in the early years of the twentieth century by the Countess Costanza Arminjon. She sold part of the property to the grandparents of the current owners, a pair of twins, one of whom decided to live there.
It has been our desire for a long time to create an interior where to  keep and enhance elements from the past, creating a collection of material and sentimental memories. This proposal met favorably the client's desire to preserve the family atmosphere that reminds him of his childhood spent with his brother in their grandparents' house.
Starting from the entrance, the metal structure returns as a connecting element between the various rooms; its aim is to define new furnishings and functions. At the same time it surrounds the old wallpapers and the wall lamp, another object from the past. A strip of resin connects kitchen, entrance and living area, going up to the bathroom. The solid color contrasts with the patterns of the old ceramic tiles.
In the living area we kept the original wall furniture, where we integrate new joinery objects; the little theater with its curtains hides the tv. Also in this room the metal structure frames the old wallpapers and becomes a false ceiling, coffee table and partition wall.
The title "An Explosive Compound" alludes to a set of decorative elements that acted as nitroglycerine, letting our project have the stabilizing effect of Nobel's invention.
Materials e furniture:
Custom made furniture, metal structure and wire mesh dividers: designed by Marcante-Testa, realized by Falegnameria Fiore
—–
project by Andrea Marcante and Adelaide Testa
collaborators: Giada Mazzero
photographer: Carola Ripamonti