IT WAS DIFFICULT TO BEAT THE VIEW OF ONE OF PARIS' MOST IMPORTANT CHURCHES WITH INTERIOR BUT DESIGNER DUO MARCANTE TESTA SUCCEEDED WITH THIS TIMELESS DESIGN FULL OF FRENCH AND ITALIAN INFLUENCE.
"L'Italie à Paris" – text by Liza Karsemeijer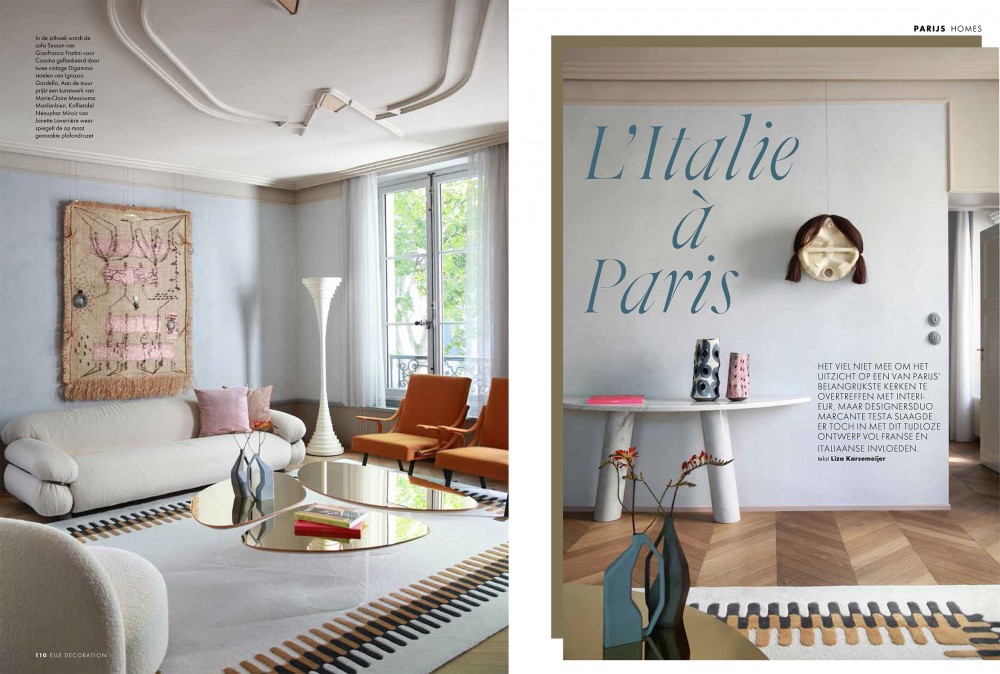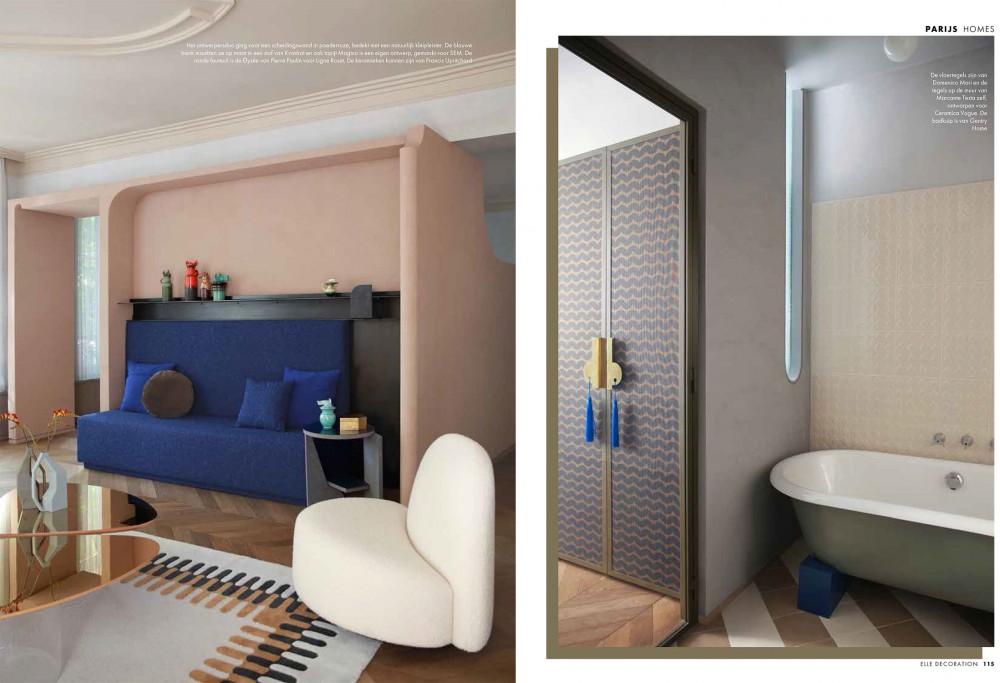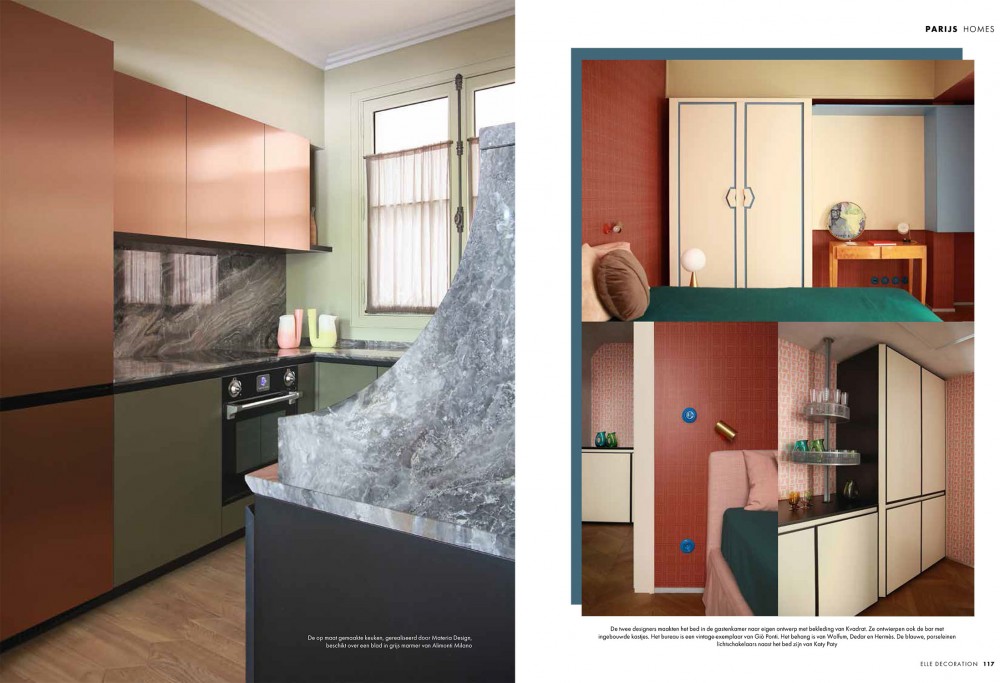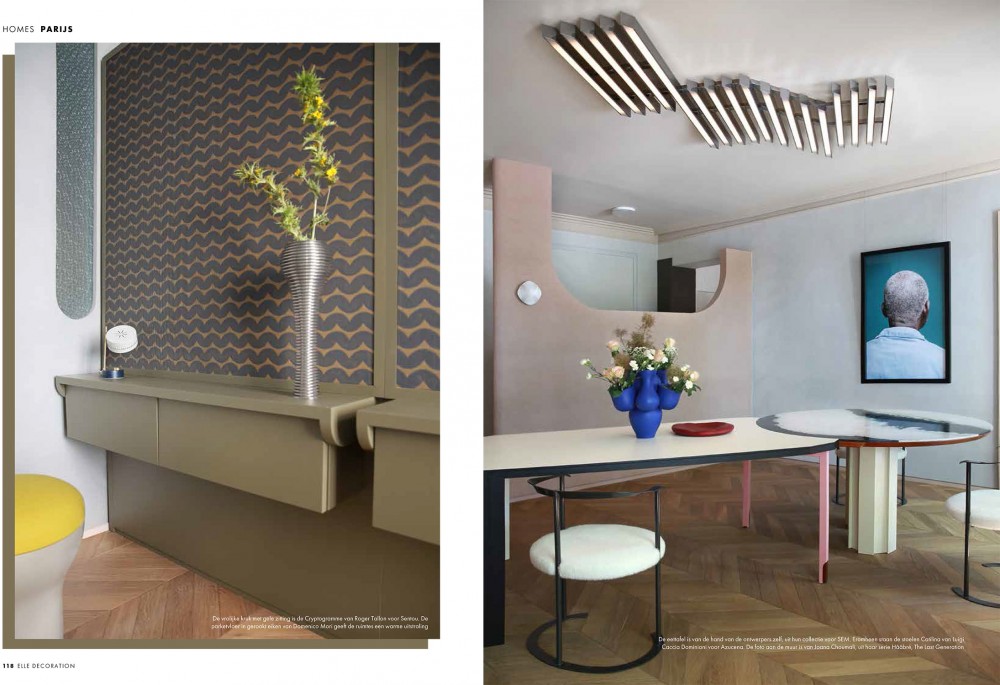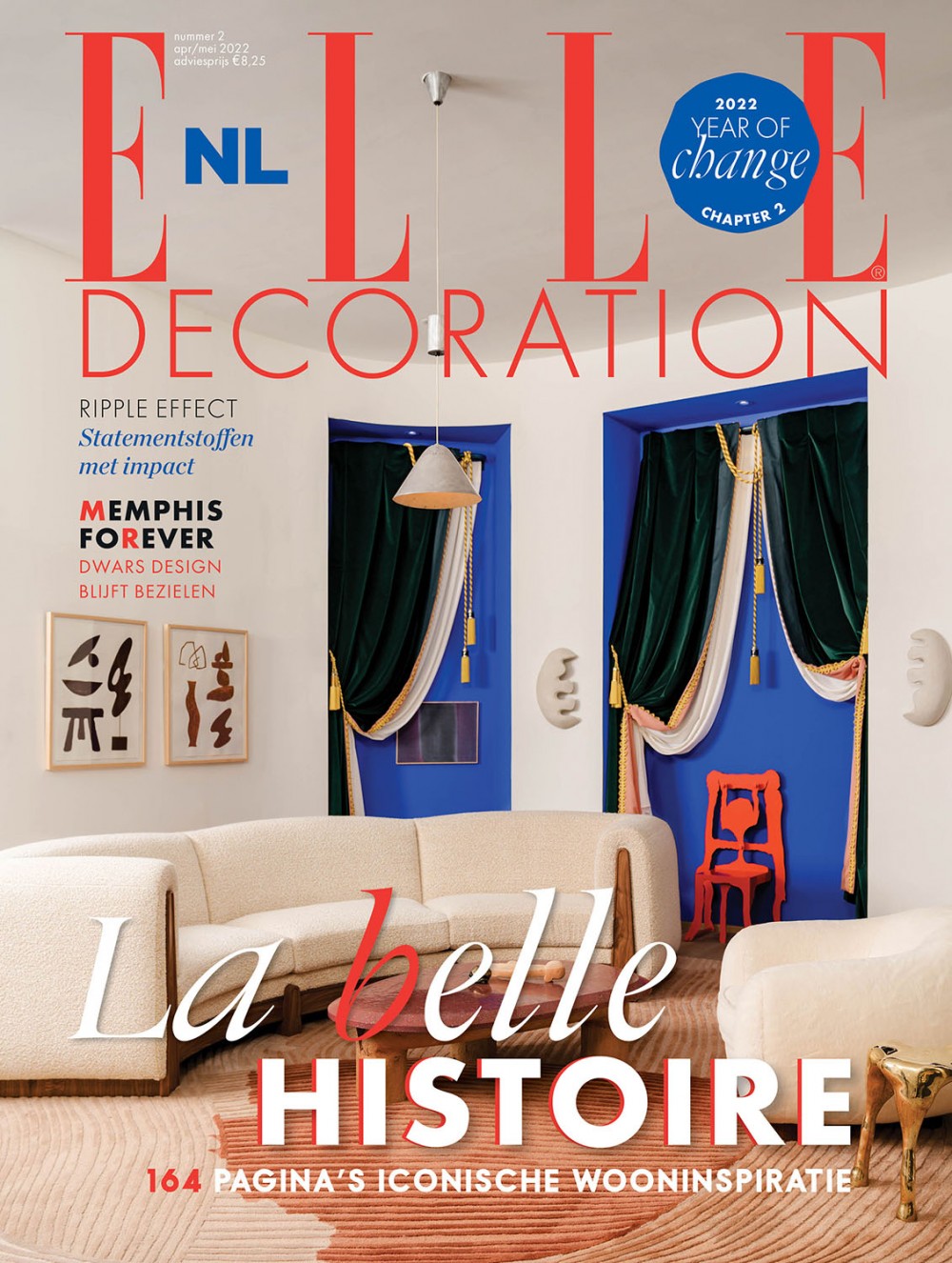 Those lucky enough to be invited to Pascale Revert's apartment, founder of the contemporary African art gallery 50 Golborne, will enjoy a wonderful view from the dining table over one of the most charming squares in Paris. Place Saint-Sulpice is known for its church with a mysterious history: the building even plays a key role in Dan Brown's The Da Vinci Code. "We deliberately placed the marble table diagonally, so that all table companions always have a view of the church," says designer Andrea Marcante. The ceiling rose is also inspired by the coat of arms of the Saint-Sulpice brotherhood. "The connection between inside and outside is important in our work," Marcante explains. "We also took inspiration from the Paris bar scene in the 1970s. This is reflected, for example, in the choice of laminated materials.'
Italian Paris
Although he and his partner Adelaide Testa are not French but Italian, Revert and her friends call the interior 'typically Parisian'. A big compliment to the designers, because that was exactly their goal. The home of Testa and Marcante is in the northern Italian city of Turin, also known as 'the Paris of Italy'. "Since Turin was traditionally a royal city, many craft businesses have opened over the centuries to meet the interior needs of the royal family, such as carpet weavers, woodworkers and fabric makers," says Testa. "You can still feel that legacy in the city. We think it is important to honor traditions: for example, the tassels are on the wardrobe in the bedroom of a 300-year-old family business.'
Homely Gallery
The couple were introduced to Revert by American project manager Ashley Maddox, who was impressed with their work after a visit to their studio. The designers were commissioned to transform the newly purchased apartment into a second home for the owners and at the same time an extension of Revert's gallery. The owner wanted to exhibit the paintings, photography, sculptures and other objects from her art collection in a domestic context. 'The works change regularly, so we opted for a color palette in which a pronounced painting would not look out of place, and we set up corners and shelves in which art objects would come into their own,' says Marcante.
To make the apartment seem more spacious, the designers decided to break open the maze of small rooms – a typical layout of classic Parisian apartments. Only the load-bearing wall between the entrance and the dining room could not be removed, so the designers went for a striking view in powder pink clay. Testa: 'Thanks to this architectural intervention, the living room, dining area and entrance become three separate areas, yet they are connected to each other.'
—-
HET VIEL NIET MEE OM HET UITZICHT OP EEN VAN PARIJS' BELANGRIJKSTE KERKEN TE OVERTREFFEN MET INTERIEUR, MAAR DESIGNERSDUO MARCANTE TESTA SLAAGDE ER TOCH IN MET DIT TIJDLOZE ONTWERP VOL FRANSE ÉN ITALIAANSE INVLOEDEN.
Wie het geluk heeft uitgenodigd te worden in het appartement van Pascale Revert, oprichtster van galerie voor hedendaagse Afrikaanse kunst 50 Golborne, heeft vanaf de eettafel een prachtig uitzicht over een van de charmantste pleinen van Parijs. Place Saint-Sulpice staat bekend om zijn kerk met een mysterieuze geschiedenis: het gebouw speelt zelfs een sleutelrol in Dan Browns De Da Vinci Code. 'We hebben de marmeren tafel bewust diagonaal neergezet, zodat alle tafelgenoten altijd uitzicht hebben op de kerk,' vertelt designer Andrea Marcante. Ook de plafondrozet is geïnspireerd op het wapen van de Saint-Sulpice-broederschap. 'Deconnectie tussen binnen en buiten is belangrijk in ons werk,' licht Marcante toe. 'Zo haalden we ook inspiratie uit de bar scene van Parijs in de jaren zeventig. Dat zie je bijvoorbeeld terug in de keuze voor gelamineerde materialen.'
Italiaans Parijs
 Hoewel hij en zijn partner Adelaide Testa niet Frans maar Italiaans zijn, noemen Revert en haar vrienden het interieur 'typisch Parijs'. Een groot compliment voor de ontwerpers, want dat was precies hun doel. De thuisbasis van Testa en Marcante ligt in de Noord-Italiaanse stad Turijn, ook wel 'het Parijs van Italië' genoemd. 'Doordat Turijn van oudsher een koninklijke stad was, zijn er door de eeuwen heen veel ambachtelijke bedrijfjes geopend om te kunnen voldoen aan de interieurwensen van de koninklijke familie, zoals tapijtwevers, houtbewerkers en stoffenmakers,' vertelt Testa. 'Die erfenis voel je nog steeds in de stad. Wij vinden het belangrijk tradities in ere te houden: zo komen de kwastjes aan de kast in de slaapkamer van een 300 jaar oud familiebedrijf.'
Huiselijke galerie
Het stel werd aan Revert voorgesteld door de Amerikaanse projectmanager Ashley Maddox, die na een bezoek aan hun studio onder de indruk was van hun werk. De ontwerpers kregen de opdracht het vers aangekochte appartement om te toveren tot tweede huis voor de eigenaren en tegelijkertijd tot verlengstuk van Reverts galerie. De eigenaresse wilde namelijk de schilderijen, fotografie, sculpturen en andere objecten uit haar kunstcollectie tentoonstellen in een huiselijke context. 'De werken wisselen regelmatig, dus gingen we voor een kleurenpalet waarin ook een uitgesproken schilderij niet zou misstaanen  richtten we hoekjes en planken in waarin kunstobjecten goed tot hun recht zouden komen,' aldus Marcante.
Om het appartement ruimtelijker te doen lijken, besloten de designers het doolhof van kleine kamertjes – een typische indeling van klassieke Parijse appartementen – open te breken. Alleen de dragende muurtussen de entree en de eetkamer kon niet verwijderd worden, dus gingen de ontwerpers voor een opvallend doorkijkje in poederroze klei. Testa: 'Door deze architectonische ingreep worden de woonkamer, eethoek en entree drie aparte ruimtes, maar zijn ze toch met elkaar verbonden.'