DOMESTIC CONFESSIONAL
MILAN DESIGN WEEK 2023
Devices for intimacy in domestic rituals
In a recent past the home could help to stabilize people's lives, through objects, furnishings and spaces in which to stay in contact with their identity, thanks to a clear division between the public and domestic spheres.
Today, in times that have changed and in the digital engagement that pervades all things, the walls of the home can hardly be imagined as a place "other than" the outside world: it thus becomes necessary to have places of greater spiritual intimacy, settings that preserve a ritual nature inside domestic space.
In the novel Citadelle, Antonie de Saint-Exupéry describes rituals as temporal "homing" techniques, rites that in life are comparable to things in space. The project by Marcante-Testa for "Campo Base 2023" makes reference to the idea of heterotopia theorized by Michel Foucault, namely "places that have the curious property of being in relation with all other sites, but in such a way as to suspend, neutralize, or invert the set of relations designated, mirrored, or reflected by them."
For the designers, furnishings become the spaces that protect our domestic rituals, creating a new space/time dimension in which we can grant stability to our life. In the home, what defines a space is also a limit for another more protected space, devoted to intimacy, to the relationship with our inner being, in which to heed ourselves, listen to ourselves, establish dialogue, pray, but also to imagine and to dream.
For children, it is enough to close or cover the eyes, in order to feel they have become invisible; this corresponds to our natural instinct of protection, which remains inside us.
When we grow up this simple gesture is projected into our domestic space.
Marcante-Testa imagines walls of the home that incorporate furnishings, which become heterotopic devices, shells of mindfulness in which to kneel, sit or lie down, imagining domestic spaces as the extreme boundary of the need to find comfort in a place created by human beings.
In this new formulation of domestic space, the walls and ceilings are also stripped of their simple architectural function of definition of boundaries, becoming sensorial devices: the ceiling returns to its role of responding to the human need to aim the gaze "upward," while the textile walls act as "dampers" of the background noise of everyday life.
In this pathway of intimacy in the home every ritual has to have its own "site" of expression, even the most secluded or least evident, where introspection and "confession" also can exist in a specific setting.
The house is a new domestic confessional, a place of "absolution" and forgiveness, for ourselves and others. A place conducive to intimate knowledge and reflections on our relationship with other living beings, to attempt to bring stability to our lives.
Domestic Confessional hosted the preview of "Marcante-Testa Something", a new reality created by the firm, dedicated to the design of products and surfaces.
—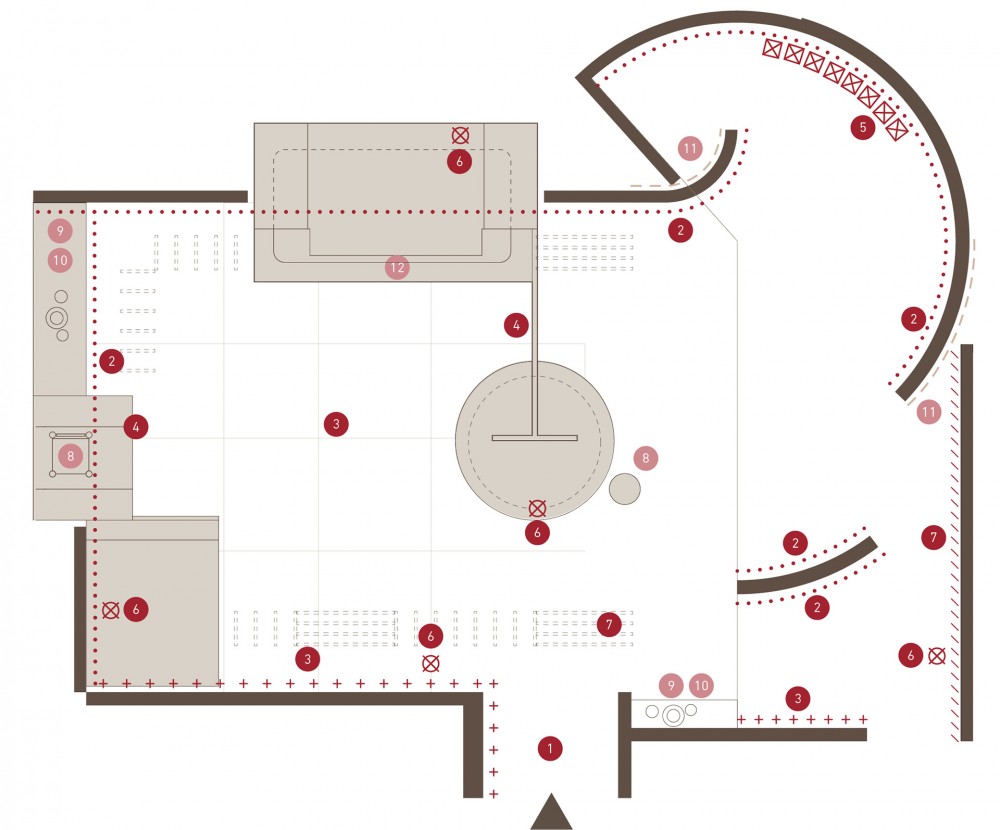 The project by Marcante-Testa has been realized in collaboration with some of the best crafmansfhip in a shared path of research in interior architecture field.
MAIN PARTNERS

Steelwood – general contractor
STEELWOOD ENGINEERING SRL is a General Contractor active since 2004 both nationally and internationally, above all creating its own space within the luxury retail and prestigious residential sector. The result of the experience gained by the management in over forty years in the construction sector, with the aim of offering a complete service to its customers, it is able to satisfy every request in the entire design and construction process.

Aleksandra Gaca – textile designer for the wall fabric and for the bedcover
Textile designer Aleksandra Gaca specialises in innovative woven textiles that lie at the intersection of art, design, and architecture. With over two decades of experience, she has dedicated herself to pushing the technical boundaries of weaving, pioneering three-dimensional textiles and textile constructions, and becoming a leading expert in their design, manufacture and use. 

Cimento–wall and floor cladding
CIMENTO® is a unique, patented material – completely made in Italy – selected by the ADI Permanent Design Observatory for the Design Index 2020, in the "Design of materials and technological systems" section.
CIMENTO® headquarters are in the province of Venice, a symbolic city in which art and history have been reflected in the waters of its alleys for 1600 years.

Livio Fratelli–custom made furniture: table-bed and confessional.
We are an artisan company that has its roots in the Cantù tradition of furniture. Our goal is to support designers and architectural firms in the creation of custom-made works by providing passion and expertise supported by technology and innovation.

Wonderglass–custom made glass wall lamps
WonderGlass is a family business with a completely Italian history, founded in 2013 by father and son, Maurizio and Christian Mussati, with the vision of preserving the skills and techniques of the community of Venetian master glassmakers and stimulating new markets for artistic glass. WonderGlass has subverted the classic rules of glassmaking, making them innovative through a synthesis between Venetian tradition and impeccable Italian craftsmanship, reinterpreted by today's cosmopolitan talents of art and design.

Rossi Illuminazione–custom made metal wall and ceiling lamps.
Based in Vicenza, since 1966 Rossi Illuminazione has been working in the lighting industry, dealing tailored classic-style lamps and chandeliers and providing the costruction of tailored lamps, starting from customers' designs.

Rezina–wallpaper and ceiling decorative elements for "Marcante-Testa Something"
Rezina® began its history in 1980 within the family business in the field of special paints for furniture, industry, bodywork and flooring in public and private environments.
In 1995 the first experiments on materials applicable in the field of decorative civil surfaces were undertaken and in 2004 the reference brand Rezina® was born. It is the beginning of the large-scale distribution of resins which today allows us to be able to count on a specialized team of installers and resellers.
A special thanks to the visual artist Giorgia Scioratto for designing the wallpaper and wall engravings.
—
TECH
NICAL SPONSORS

Heaps & Woods – loose furniture (wooden chair, stool)
Based in Spain, Marta Jurado and Louis Chagnaud, founders of Heaps & Woods, combine natural influences and textures to create unique furniture. Heaps and Woods is a project born from a shared love of iconic design and a desire to produce beautiful, sustainably crafted furniture. "We stand at the design crossroads of Indonesian heritage and European innovation, past and present." 

LOD – vases and complements
Los Objetos Decorativos creates pieces in the realm of decoration and lifestyle following our tastes and interests, offering an aesthetic proposal of the present time and trying to incorporate new narratives to the discourse of the project.

The Ode To – vases and complements by artists Sofi Gunnstedt and Dina Sandberg.
The Ode To is a thoughtfully curated online marketplace for handmade artworks by exceptional artists. As your eyes in the art world, they scout the best emerging artists and handpick every unique piece of artwork.

Elitis – vinyl wallpaper
Transforming the idea of linen or metal. Bringing new materials to our walls. Adding a cutting-edge twist to an ancient gesture. Going against the trend to reinterpret art… Our philosophy is that of innovation and metamorphosis. 

Momentum– textile bedcover
Momentum is the material difference. Bringing together design, sustainability and innovation for continuous transformation.
The law of motion is defined as inertia, acceleration and movement. That's us. That's Momentum.